Welcome!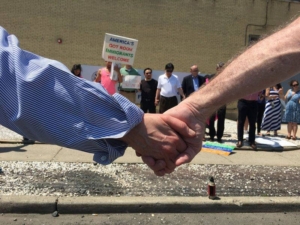 Faith in New Jersey (FINJ) is a multi-faith and multi-racial network of faith leaders and faith communities working together to advance a social and economic justice agenda at the local, state and federal level. Faith in New Jersey's mission is to develop grassroots community leaders, analyze the policies that shape our communities, and mobilize faith voices and faith voters to effectively act on the prophetic call to build the Beloved Community.
Grounded in the various faith traditions of our participating congregations, as well as Dr. john a. powell's landmark work on race and bias, we seek to widen the circle of human concern by putting people at the center of decisions that impact their lives. We believe that all communities, even those at the margins, can and must come together and act powerfully to transform the structures that shape their lives in order to create communities that reflect the dignity inherent in all of God's children.
FINJ has been organizing statewide (as PICO New Jersey) since 2010 and changed our name in 2015 to better reflect our goal of building a powerful faith voice in New Jersey. We are affiliated with the Faith in Action Network (Formerly known as PICO National Network), which involves 45 federations with more than 1200 congregations in 21 states across the US in faith-based community organizing initiatives to reduce racial and economic disparities – making us one of the largest community-based efforts in the country.
As the only faith-based organizing institution in the State of New Jersey, FINJ has developed a model that leverages commonalities of faith to transcend political divides and effect positive change within a political environment with stated hostilities towards progressive issues. FINJ starts by building relationships with congregations and faith communities that reflect the diversity of the state, providing faith leaders and laypeople with the training and resources to form organizing teams who can rally their communities to action. For many, this represents the first time they have heard about these issues from a faith-based perspective, which is effective in creating buy-in from communities members outside of the traditional progressive base. Unlike other organizations doing similar work, FINJ goes beyond education to effectively mobilize and organize our constituents. This model has proven its effectiveness and is currently being replicated in other states.
FINJ's model is effective in part due to a structure that allows it to reach diverse faith communities across the state.  FINJ currently has four county regional chapters; Essex, Union, Middlesex, and Camden. Each region consists of clergy of different faiths, congregation members, community leaders, students, and partnership organizations that support and complement FINJ's work. Segmenting our work by regions enables FINJ to organize communities and collectively advance statewide legislative agendas. All regional members participate in a leadership institute training and are ready to advocate for statewide issues, as well as more localized issues in their regions, creating collective power through regional diversity.
We also have congregations that are part of FINJ in counties outside of our regional chapters, as statewide partners. They work on our statewide and/or national issues. They may also be members of thier closest regional chapter where they gain training, build power, and strategize to build their regional chapter. We believe this method of growth builds a sustainable regional and statewide movement to build the Beloved Community we believe in; one of hope, justice, opportunity, and love.  
Board of Directors
Rev. Heyward Wiggins, III – President
Rabbi Joel Abraham – Secretary
Imam Saffet Catovic – Treasurer
Rev. Geralda Aldajuste

Deacon Omar Aguilar
Rev. Barry E. Wise II
Rev. David Ford
Rev. Dr. Ronald Owens
Rev. Carmine Pernini
Executive Director
Statewide Clergy Caucus
Rev. Dr. Lumzy Hicks – Mt. Calvary Missionary Church in New Brunswick
Rabbi Elliot Tepperman of Bnai Keshet in Montclair
Bishop Fred Rubin of Community Refuge Temple in Manalapan
Rev. Dr. J. Brent Bates of Grace Church in Newark
Rev. Barry Wise III of Greater Mount Moriah in Linden
Rev. Susan Friedl of Calvary Presbyterian Church in Linden
Rev. George Britt of Mount Teman AME in Elizabeth
Rabbi Ariann Weitzman of Bnai Keshet in Montclair
Rev. Herbert Thomas of St. Johns Baptist Church of Scotch Plains
Rev. Timothy Jones of Bethany Baptist in Newark
Sister Veronica Roche of St. Joseph of Camden
Father John Mennell of St. Luke's Episcopal Church in Montclair
Father John Harmon of Christ Church in Orange
Pastor Ann Ralosky of First Congregation Church
Rabbi Jesse Olisky of Congregation Beth El in South Orange
Pastor Kathryn Irwin of Holy Trinity Lutheran Church in Nutley
Rabbi David Greenstien of Congregation Shomrei Emunah of Montclair
Rev. Robin Tanner of Beacon Unitarian Universalist Congregation of Summit
Statewide Youth Council
Essma Bengabsia of Hudson County 
Kason Little of Union County 
Saray Henderson of Cumberland County
Financial Supporters 
Bread and Roses Foundation
Presbyterian Church USA
Fund for New Jersey
Catholic Campaign for Human Development