WESTFIELD, NJ — Six protesters, including four clergy members, who were  holding a sit-in at Congressman Leonard Lance's office in Westfield to support "Dreamers" were arrested Monday, according to Westfield police.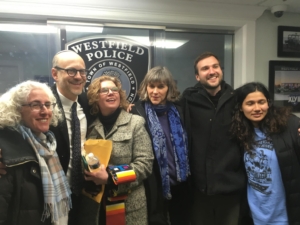 The Rev. Ann Ralosky and Rev. John Rogers of First Congregational Church in Montclair, Rabbi Elliott Tepperman of B'nai Keshet in Montclair, Rabbi Faith Joy Dantowitz of B'nai Abraham in Livingston, Unitarian Universalist Congregation in Summit member Kristen Peck and Make the Road New Jersey youth leader Nedia Morsy were  charged with Defiant Trespass after refusing to leave the office of Leonard Lance after the office closed, according to police.
In all, about 100 protesters had stood outside the office on North Avenue Monday afternoon to demand that Lance publicly support a "clean" DREAM Act (one without expanding funding for the proposed $25 billion wall and without ending the diversity visa lottery or family reunification programs) and publicly denounce Trump's immigration policies, according to Sara Cullinane, director of Make the Road New Jersey, an Elizabeth-based organization that advocates for immigrants.
Cullinane said that the six who were arrested for trespassing knew there was a good chance that they would be arrested.
"They read their demands and stayed in the office and chanted and were eventually arrested when they did not leave," Cullinane said.
Lance offered to meet with the protesters — including those based in Montclair, even though he doesn't represent Montclair — in either New Jersey or Washington, D.C. at a mutually convenient time, but his offer was ignored, said Lance's spokesman John Byers.
"Congressman Lance has great respect for our state clergy and is happy to meet with the congregation at a time that is mutually convenient for both parties as he has done with other religious leaders and groups on numerous occasions," Byers said.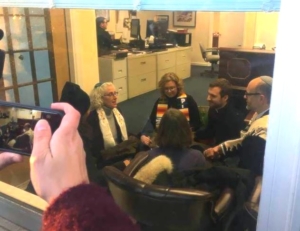 Rep. Lance is a cosponsor of "clean" legislation concerning DACA recipients – H.R. 1468, Byers said. He also supports bipartisan solutions to break the impasse over DACA, including the Problem Solvers' proposal supported by a group of 48 lawmakers split evenly by party, according to Byers, and Lance and New Jersey Democratic representative Josh Gottheimer are both members of the Problem Solvers Caucus.
Rabbi Dantowitz, Rabbi Tepperman, Rev. Rolasky and  Rev. Rogers are members of Faith in New Jersey, a network of faith leaders and faith communities.
"We encourage our clergy leaders to step out on faith and fight against all injustices that deprive our families of basic rights and liberties. In New Jersey we have seen time and time again that it is people of faith who are resisting evil policies and who are trying their hardest to help dismantle institutions of hate," Archange Antoine, executive director of Faith in New Jersey, said.
"We are thankful for the brave clergy leaders who placed their bodies on the line to be arrested for the sake of standing with those who will lose their DACA status and will soon be targeted by law enforcement," he said. "These are our sisters, our brothers, our friends and members of our community. These are the children and people of God who were made in the image of God."
"I am grateful that I was able to stand up for justice for 'Dreamers' as I sat down in my congressman's office. I was inspired by the emotional testimonies of the 'Dreamers.' I felt surrounded by a loving and supportive community gathered at the rally of faith leaders, activists, immigrants and 'Dreamers,'" Rabbi Dantowitz said.
"My ability to engage in civil disobedience was an act of moral obedience," she added. "This was my first arrest and I'm proud to be an outspoken advocate for justice as I put my faith into action. Yes, it was 'worth it' to get arrested because this is a way to amplify our message. We want Congressman Lance to stand up for a clean Dream Act. There are not two sides to this. He needs to stand up for justice and stand against white supremacy, xenophobia and hatred."
Additional reporting by Danielle Santola.
https://www.tapinto.net/towns/westfield/sections/government/articles/six-arrested-including-clergy-at-clean-dream